follow Renaultoloog also on:
---
---
---

Everything from Renault together on September 10th & 11th 2016
---
In 2014 tijdens het 2e Renaultoloog Festival kreeg ik echt de smaak te pakken, niet snel daarna ben ik al weer aan de slag gegaan voor de 3e editie in 2016. De poster had ik in 2014 al klaar en eind dat jaar begon ik al met de ontwikkeling van de Renaultoloog Festival website. Voor het eerst kon men zich online aanmelden via een invulformulier hetgeen mij een hoop werk uit handen nam omdat ik de deelnemers makkelijker kon verwerken. Ook deze editie kon ik me weer meer richten op kwaliteit en verbeteringen, kon ik meer reclame maken en bezoeken brengen aan vaste en nieuwe deelnemers om ze (weer) warm te krijgen om af te reizen naar Kronenberg in september 2016. De opzet van het festival was verder hetzelfde gebleven, zelfde locatie, zelfde indeling en de zelfde leveranciers. Met een groter team vrijwilligers en met wederom geweldig weer werd ook het 3e Renaultoloog Festival een groot succes! In totaal zijn er 426 verschillende Renaults geteld. Wederom een unieke mix van Renault voertuigen die je nergens anders bij elkaar zult zien staan, met deelnemers uit 10 verschillende landen die dit evenement een echt internationale allure geven. Graag wil ik alle Renaultrijders, de clubs, de standhouders, Renault dealer Janssen-Kerres, Renault dealer Strijbosch, de Nebim Groep, Renault Trucks Nederland, Auto Obermann, Dijkstra en Langeweg Rutten en niet te vergeten alle vrijwilligers bedanken voor het mogelijk maken van dit unieke evenement! Geniet van het onderstaande overzicht, kijk ook in het online fotoboek voor grote foto's! Groeten, Ed Lenders.
---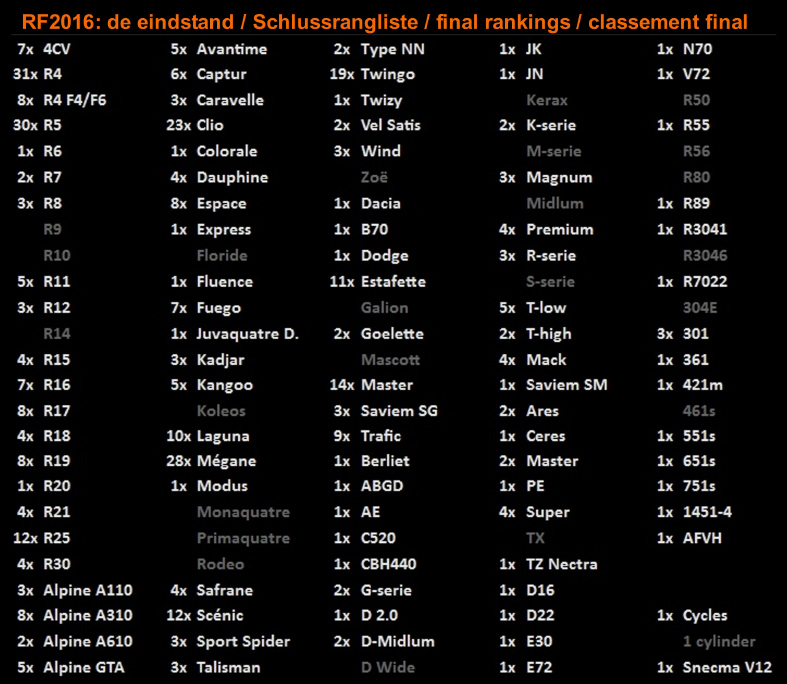 ---
Online photoalbum: 3e Renaultoloog Festival
---
The participants
---
In and around the building

Clubs, parts- & scale model trade / Boutique Renaultoloog
---

Renault dealer Strijbosch Venray / Renault dealer Janssen-Kerres Venlo / Nebim Groep & Renault Trucks Nederland
| | |
| --- | --- |
| | |
| | |
| | |
| | |
| | |
---
Camping
| | |
| --- | --- |
| | |
| | |
---
And furthermore...
---
by Lucat:
by Renault Actueel:
---
---
Links
---